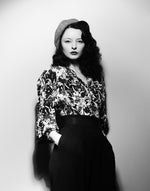 Welcome to our new website and journal! We are extremely excited to share it with you.
To celebrate its launch, we interview our founder and designer Hadley.
Hadley sketches out our swimwear and bodywear concepts in her North London studio. A self-taught designer, who is passionate about UK manufacturing and ethical production - Hadley chooses the highest quality French-imported fabrics to craft garments with elegant, ultra-feminine silhouettes.
TALK US THROUGH THE DESIGN PROCESS - FROM FIRST SKETCH TO SAMPLING. WHICH ARE THE MOST EXCITING MOMENTS? AND THE MOST SATISFYING?
"The begining is always exciting. Starting with fresh ideas taken from many different forms of inspiration, touching on my surroundings and thoughts at that moment in time. At this stage, the designs vary hugely and are at their most extravangant and abstract. My sketchbook at this stage will often be filled with cut out images, postcards, colour swatches and sketches of anything that has provoked my imagination. 
The next step is taking those initial ideas and gravitating towards the ones that excite me the most. It's an instinct rather than pure logic. Naturally, patterns and themes begin to emerge and the collections start to take shape. 
Moving onto the sampling stage is very telling and crucial in making sure the designs work beautifully in reality, as well as in my imagination. Watching the designs come to life is always the most fun thing! Each time we unpack a new garment sample, I get a rush of butterflies and excitement and even with amends or alterations, nothing beats seeing it for the first time on my fit model. That is the moment the little romantic idea from a sketchbook transforms into real life."
HADLEY SMYTHE COLLECTIONS ARE NAMED AFTER FAVOURITE BOOKS OF YOURS - FOR EXAMPLE, GARDEN OF EDEN BY ERNEST HEMINGWAY AND DELTA OF VENUS BY ANAIS NIN. HOW DO YOUR LITERARY INSPIRATIONS INFORM AND INSPIRE YOU?
"Reading has always been my strongest link to a magical fantasy world and an escape from the everyday. Reading a compelling or vivid story helps take me away into that dreamland where the ideas flow. My library is varied but often has a theme and as well as discovering new stories and characters I love to revisit old favourites. Garden of Eden and Delta of Venus both come into that category - books I revisit regularly and benefit from in different ways with each read. The mood and atmosphere of the stories are powerful, helping me to create my own characters and narratives for the designs."
PRODUCTION TAKES PLACE IN ENGLAND. WHY MANUFACTURE IN THE UK? WHAT DOES ETHICAL MANUFACTURING MEAN TO YOU?
"Ethical manufacturing means so many things - be it the impact our actions have on the environment or the way staff are treated. From the start of my business, I was sure I wanted to manufacture in the UK - primarily so I could easily visit the factory myself, develop an authentic working relationship with my production team and observe the working conditions of the garment workers themselves. The idea of producing in a far-away place where I had little information or opportunity to understand how that side of the business worked was never an option for me. 
I am very lucky to have an extremely talented pattern cutter, sample machinist and production team who are skilled enough to rival my expertly sewn collection of vintage swimwear and lingerie that inspired my own collections."
YOUR DESIGNS ACCENTUATE AN ULTRA-FEMININE SILHOUETTE. WHEN DID YOU FIRST FALL IN LOVE WITH THIS SHAPE AND HOW IS IT PIVOTAL TO YOUR IDENTITY AS A DESIGNER?
"The beauty of the female silhouette has always fascinated me. Through research from film, books, art and life itself my attention has always been drawn back to the silhouette. What is fascinating about the silhouette is that it is flexible and ever-evolving. It is not just one woman, one shape, it is all women. It shifts throughout history as fashions change but there always seems to be an art to it that I find alluring and magical."
WHO ARE YOUR FAVOURITE CREATIVE INSPIRATIONS AND STYLE ICONS?
"David Bowie is always up there - because of his creativity, his playfulness and his natural desire for theatrics and experimental design. And for being a pioneer and a true artist through and through. Living life truly and letting love, lifestyle and career go hand in hand in part of his own wonderful world. 
I am also always in love with Kim Novak in Bell, Book & Candle. Her look is bewitching and powerful, styled beautifully in every shot. Oozing confidence and attitude with each flawless outfit.
At the moment I'm also enjoying revisiting the timeless beauty of Ava Gardner. She was always so elegant, sexy and sensual. I never tire of looking at photos of Ava...she was perfection!"
YOU TAKE INSPIRATION FROM YOUR TRAVELS. WHERE WOULD YOUR DREAM HOLIDAY TAKE YOU?
"Exploring every tiny beautiful part of the French Riviera would be my next dream trip! Stepping into the worlds I read about of the extravagant, creative, wonderful minds who lived, holidayed and partied there from the 1920s-1960s. Being by the water and in the sun - surrounded by the simple, elegant architecture, reading a captivating novel and eating delivious food. Simple pleasures."