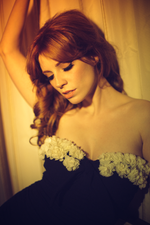 Model and muse Vanessa Frankenstein and photographer Mia Scarcello are frequent collaborators; creating filmic, sensual portraits that evoke a pleasing interflow of playfulness, adventure and mystery. In these photo series, three Hadley Smythe designs are featured: the Sweetpea swimsuit, the Tulip swimsuit and the Carmen body. We spoke with Vanessa and Mia about their inspiration behind style, work and life, and their favourite garments from Hadley Smythe. 
What are your main inspirations regarding fashion, style and beauty?
Vanessa: I basically get my inspiration from everywhere, music, art but I guess most of all films. Ever since I can remember I tried to recreate outfits, hairstyles or makeup looks from my favourite films. When I was a kid I saw Roman Polanski's The Fearless Vampire Killers (1967) with my parents and fell madly in love with Sharon Tate. It really was a turning point. She still is one of my main inspirations. Not only in this particular film but in general.
I'm pretty sure this is also where my love for 1960's beauty looks comes from. Pre-Raphaelite aesthetics are also a big inspiration for me. I was so lucky to work with my friend Mia Scarcello to recreate this particular look. Getting into the water for a John Everett Millais Ophelia tribute was a dream come true. Despite films and art some of my fashion and beauty icons are Stevie Nicks, Jimi Hendrix and Marianne Faithfull.
Mia: My main inspiration can be anything. It can be a face, a mood or a certain kind of light. I am really into light and colors and I love old movies. So I am always inspired and driven by these kinds of things.
What do you think are the most important aspects of personal style?
The most important aspect of personal style is right in the name: Personality. Make it your own. As I said I get inspired from so many different things and so many different people but that doesn't mean I just want to copy these looks. I take bits of this and bits of that and make it my own. I've never been interested in what's "in fashion", I only care about what I like and what looks good on me.
You are frequent collaborators. What do you love about working together? How does the creative process unfold?
Vanessa: I absolutely love working with Mia because we go hand in hand. I don't know what it is but we must've been separated as babies. We somehow understand each other without words. Sometimes I come up with an idea for an upcoming project, sometimes Mia does. It doesn't really matter though because we love the same things. We both bring something to the project that is different in a way but really makes it special. I'm usually responsible for hair, makeup and outfits and then Mia works her magic. I often go into a project with a certain expectation and then Mia lifts it to another level. She always has a vision that keeps her going. It's incredible.
Mia: I like the trust that has developed over the years between us. Trust is a big deal when it comes to collaborating and being creative together. We both have similar mindsets and aesthetic tastes, so our ideas fit together perfectly. After all the years of cooperation and the many projects together, we understand each other without words. The energy is always very high therefore the creativity can flow easily. It is always a pleasure to work with Vanessa.
Describe your dream summer vacation
Vanessa: Italy in the 1960's. Seeing those vacation pictures of my grandparents always made me wish I could go back in time and see it myself.
Mia: At the moment my summer dream destination is Tuscany. Because I would like to explore my homeland again. I miss it for a long time not beeing there. I am currently very inspired by old Italian movies and fashion. It would be wonderful to shoot there. 
What is your favourite Hadley Smythe design to wear?
Vanessa: I love all of my Hadley Smythe pieces but if I had to pick one it would be the Carmen Body. The green is so vibrant and luxurious. It makes you look and feel amazing the second you put it on. Plus I love how versatile it is.
Which has been your favourite Hadley Smythe design to shoot?
Mia: My favourite shoot with the Tulip swimsuit at the beach shoot a few years ago for the powderroommag . I would like to do something like these again. I love how your beautiful vintage designs have given the pictures that final authentic touch.
To see more of Mia and Vanessa's beautiful work, click here:
http://www.vanessafrankenstein.com
http://www.miascarcellophotography.com/
Instagram