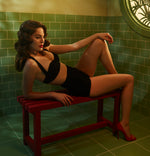 New Season Swimwear
In this summer collection we are excited to introduce magical new shapes and some ultimate holiday must-haves. We continue to concentrate on developing ultra-feminine designs that shape the body, creating a breathtaking silhouette. Our new styles feature some return fabrics and detailing mixed with new embellishments and colours. As always we would like our customers to enjoy our pieces for beach and pool bathing and also styled up for a multitude of other holiday escapades. We hope that this summer and for summers to come our styles inspire women all around the world to celebrate sensuality and explore the inner worlds of desire, creativity and adventure.
Bonjour Tristesse
Our collection is inspired by a favourite novel set in the summer of 1954 on the French Riviera. Bonjour Tristesse by Francoise Sagan tells the story of Cecile, a young girl spending a bohemian summer holiday with her father and his lovers. Amongst the charming setting she explores her own love story and enjoys summer adventures.
The mood of the story complimented by the mesmerising back drop created the perfect inspiration for developing summer designs that are ideal for the romantics, dreamers and adventurers.
Sweetpea News
We are very excited to announce that due to the success and popularity of our Sweetpea Swimsuit we have decided to offer it in a new colour way! This season Sweetpea comes with delicate black chiffon floral embellished straps for a more sultry and seductive beach look.