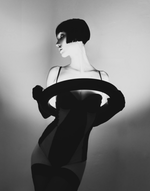 This season's bodywear collection is named after one of my favourite novels, Tropic of Cancer. Written by Henry Miller and originally published in 1934 the story explores his experience living among a community of bohemians in Paris. Combining autobiography and fiction Miller writes about his Parisian adventures and sexual encounters. His direct style of writing was not always favoured and understood but many say it paved the way for free speech in literature. "Do anything, but let it produce joy. Do anything, but let it yield ecstasy." Tropic of Cancer, Henry Miller.
As we arrive into winter and we all start to hibernate, it's time to procure our most lavish loungewear. Our pieces have been designed to beautifully sculpt and shape and to create the ultimate feeling of luxury. Wear yours as lingerie, shapewear or part of an eveningwear ensemble fit for the most elegant winter occasions. 
This November we have decided to shine the spotlight on our bodywear styles and feature various styling ideas for how and when to showcase your Hadley Smythe bodywear.
JOSEPHINE
 This beautiful set features a seductive combination of black satin and nude powermesh. Josephine's two-tone affect offers a playful design, easy to pair with sheer blouses for an elegant and alluring feel.
MARLENE
Inspired by the Harlequin aesthetic the Marlene bodysuit exudes sensuality and playfulness. With moulded, underwired cups and clever panel placement Marlene is daring and glamorous.
LIZABETH
The Lizabeth skirt is the perfect piece for complimenting your Hadley Smythe bodywear. Made from silk organza it is finished with a stretch satin waist band. It's elegant, sleek shape is designed to beautifully sculpt the feminine silhouette and to sit neatly over our bodywear, to create a sensual look for the occasion of your choice. 
 Each season our bodywear styles are named after various inspirational women. This season we have chosen the ever so dazzling Marlene Dietrich, the sumptuous Lizabeth Scott and the magical Josephine Baker. All of the the women chosen allude individuality, success and their own beauty. We hope they inspire future wearers to fulfil their every dream and to live out their fantasies.
Models: Leonie Fietz, Vanessa Frankenstein, Millie Rose Loggie