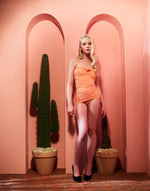 "I knew you'd come tonight," she said softly, "like summer, just when I needed you most..."
We are very excited to present our new season swimwear! We hope this season our gorgeous new styles will accompany you on many summer adventures and help make your dream holidays feel all the more magical!
 Our new swimwear collection introduces an array of new designs with a delicate colour palette bringing summer freshness to your beach wardrobe. Our luscious new gingham features in the divine Sweetpea swimsuit and in this summer's bikinis, perfect for a soft and natural beach beauty. Introducing a soft orange for an exciting and playful beach look in our exquisite Zinnia swimsuit. And the heavenly Camellia swimsuit in ivory palm leaf print, beautifully ruched for a feminine, dreamlike feel. This summer we also bring back the sophisticated and classic Tulip shape in a stunning textured black jaquard.
 The title of the collection is taken from F. Scott Fitzgerald's first novel This Side of Paradise. The novel follows a young and romantic American discovering the realities of adulthood and the torment of lost love. Fitzgerald's poetic and lyrical writing style inspires a serene rhythm and carries the reader off into an ethereal dreamland. The novel makes for the perfect summer read!
"Deep in the time when summer lets down her hair?
Shadows we loved and the patterns they covered the ground with
Tapestries, mystical, faint in the breathless air."
 Photography by Chiko Ohayon