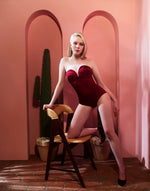 "How do you feel if you're in love?...you feel as though pepper has been sprinkled on your heart, as though tiny fish are swimming in your veins."
Our House of Flowers collection embodies luxury and beauty. Our bodywear pieces are designed much like our swimwear to make the wearer feel beautiful and decadent on all of her exotic adventures.
After the success of the divine Carmen bodysuit, we have brought her back in a sumptuous berry satin. Did you know she is named after the fabulous Carmen Miranda? 
This season our flower theme, often appearing in our swimsuits has entered into our world of bodywear. The satin Lana body features a halter style tie coming around the bust to sensually frame and shape the perfect balcony, filled with deep red chiffon flowers. The slim black satin body beneath creates the ultlimate feminine silhouette. Lana of course takes her name from the heavenly Lana Turner.
The title of the collection originates from a short story written by Truman Capote. House of Flowers tells the story of Ottilie who is entranced by a beautiful young man from the mountains called Royal Bonaparte. Ottilie seeks out love and when Royal takes her to his house of flowers she makes the decision to give up her life as a prostitute. Her life with Royal in his house of flowers is not without drawbacks but it is her chosen path to finding love and stability. A fairytale like novella reminding the reader of innocence and passion.  
 Truman Capote by Slim Aarons.